राष्ट्रीय शिक्षा नीति 2020 विद्यार्थियो द्वारा सर्वेक्षण किया जाना है, सभी विद्यार्थियों से अपेक्षा है, की दिए गए लिंक पर क्लिक कर तथा पूछे गए प्रश्नों का उत्तर दे
कुमाँऊ मंडल के तराई क्षेत्र के निवासियों की उच्च शिक्षा की आकांक्षाओं को पूरा करने की दृष्टि से राज्य सरकार द्वारा 10 अक्टूबर 1974 को राजकीय स्नातकोत्तर महाविद्यालय, रूद्रपुर की स्थापना की गई। स्नातक (UG) स्तर पर कला संकाय के साथ स्थापित इस महाविद्यालय में वर्ममान में कला, विज्ञान तथा वाणिज्य संकायों में स्नातक (UG) एवं स्नातकोत्तर (PG) के पाठ्यक्रम संचालित किये जा रहे हैं। वर्तमान विश्व की बदलती जरूरतों एवं युवाओं की आवश्यकता के अनुरूप विभिन्न व्यवसायिक पाठ्यक्रमों का संचालन किया जा रहा है।
महाविद्यालय के पास लगभग 28 एकड़ का विशाल परिसर है जिसमें मुख्य प्रशासनिक एवं कला संकाय भवन, विज्ञान संकाय भवन, बी.एड. संकाय भवन, बहुउद्देशीय सभागार, वाचनालय, पुस्तकालय , वाणिज्य संकाय हेतु कक्ष स्थित हैं। परिसर में 30 छात्रों के लिए छात्रावास सुविधा उपलब्ध है। शिक्षक एवं शिक्षणेत्तर कर्मचारियों के आवास बने  हैं।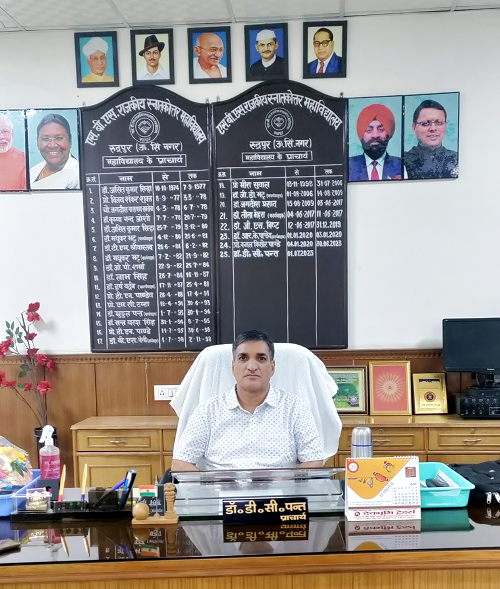 "Education is the Best way to excel in all the aspects of life…"
– Dr. D. C. Pant
Welcoming everyone to the official website of SBS Government Post Graduate College Rudrapur (Udham Singh Nagar).The college is located in Rudrapur tehsil of district Rudrapur. The institution has a primary vision to educate the youth of Uttarakhand with skill development so that the youth make themselves self dependent. SBS Government Post Graduate College Rudrapur was established in 1974 with an area of 28 acres (approx.) with a Latitude and Longitude of 28.9595° N and 79.3844°E respectively.
The college accommodates three streams Arts, Science and Commerce in UG and PG Level with more than 5 thousand students. The New Education Policy (NEP) 2020 is implemented in the college. B.B.A., B.Voc. , B.Ed., Banking and financing etc. courses are running in self finance mode.
Dr. D.C.Pant
The Sardar Bhagat Singh Government Post Graduate College, Rudrapur strives to be a Centre of Excellence in Teaching, Research and Training for the pursuit of knowledge and enhancement of entrepreneur skills in youth with human values for Sustainable Development of the Nation.
To build and upgrade education facilities for those who are Divyangjan and gender sensitive and to provide safe , peaceful, inclusive , holistic and effective learning environment for all.

To develop the institution with global standards to cater the local requirement of the newly settled and settling diverse demography of Tarai region in the wake of sprawling industrialization.